Big Brother 12 Nude: Annie Whittington The Human Thermometer
|
Annie Whittington might not have spent much time on Big Brother 12, but when she wasn't hosting Andrew under her blanket she was at least letting viewers know how hot or cold the room was.
click thumbnails to see full size, uncensored image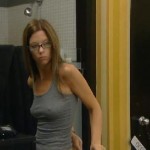 Leave a Reply
Commenting Rules:
Keep the conversation civil and on topic. If your comment does not add to the conversation, it will be removed. Debate intelligently. Insulting the author, Big Brother Network, or other commentators will result in comment removal and possible ban. Any comments with links or flagged words will go into moderation before approval. Anything we deem as spam will not be approved. Comments left in ALL-CAPS will be deleted regardless of content.
Pingbacks & Trackbacks: